INNOVATIVE & BENEFICIAL
The hoof trimming chute is designed using a 3D-CAD program in combination with the latest production methods.
For example, the frame is cut by a 3D tube laser/plate laser machine. Each part is positioned by a unique hole cam connection, with a maximum deviation of only 0.1mm. In addition, the hole cam connection provides a many times stronger frame.
By using the most modern hydraulic and minimal electrical components, the chute is less complex, more efficient in production and use and even lighter. This allows us to deliver a chute with the core values: simple, reliable, affordable.
Feel free to search for other hydraulic hoof trimming chutes, we are convinced that you will not find one with so many specifications for this price!
View all technical specifications
Spoon cases

Up to 60cm lift height

Rubber anti-slip mat 10mm

2 wide belly girths

3x LED work light

Rotating tool holder

Rotatable power conductor
3x 230v socket
Silent oil pump
Hot dip galvanized
Glassed and Reinforced Frame
Total weight of 920KG
Expansion options:
Various drift fences
Wheel set
Extension(s) on request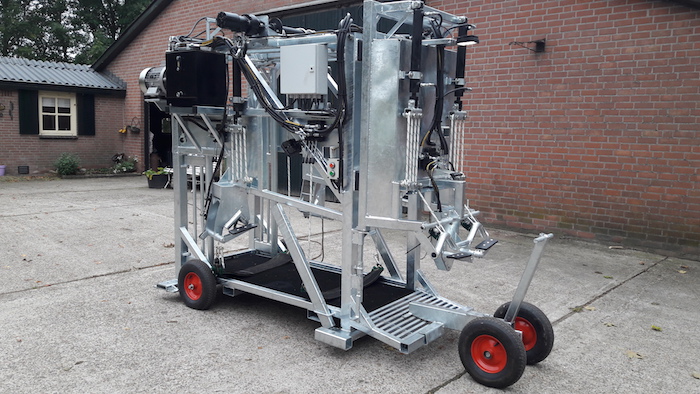 Strong, innovative, light and easy to transport
Our prices